The X-PAD Extreme Dance Pad is an advanced dance pad for plugging into a PC/MAC. This new generation pad has a distinctive plastic design of the arrows for accurate orientation when playing in both standard and diagonal directions. 
PlayDance edition. It comes with the latest PlayDance game in the Ultimate licence for free. A new dance game designed not only to operate with X-PAD dance pads.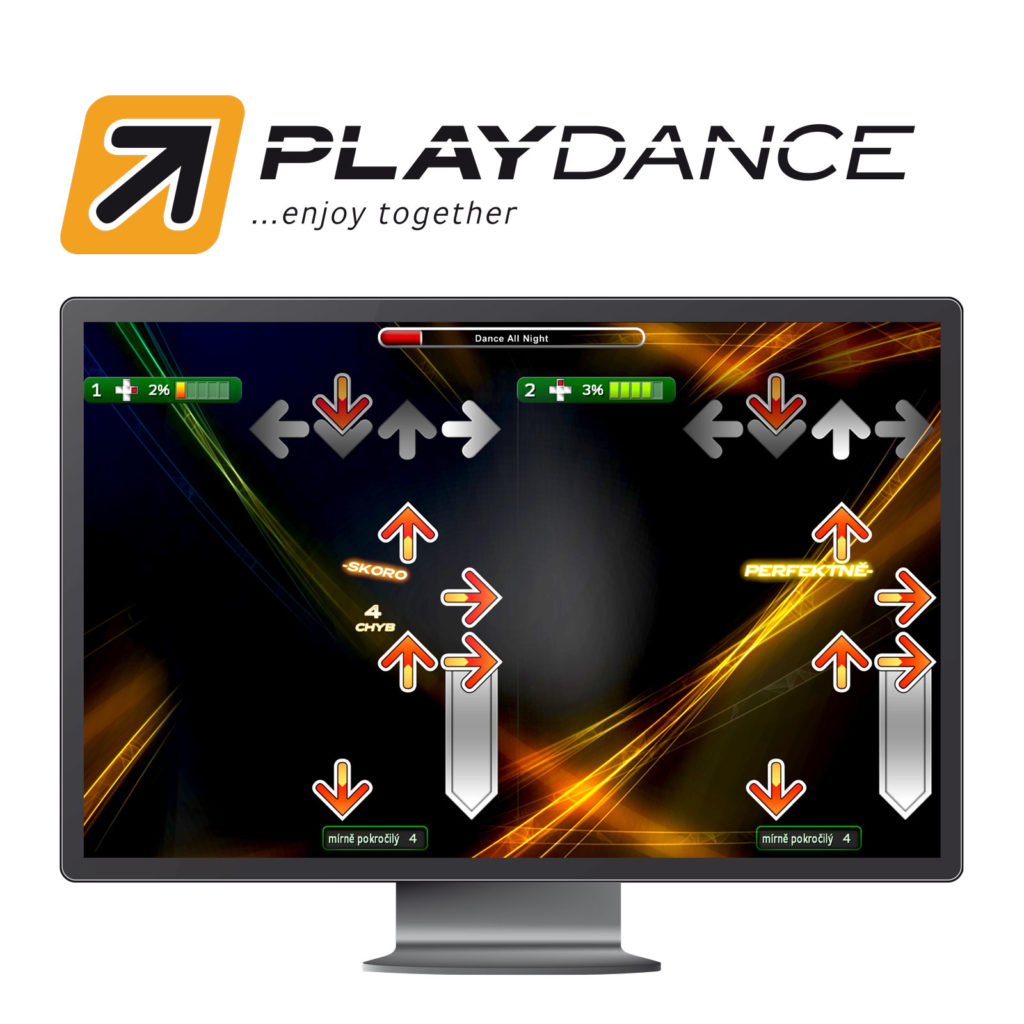 The game has many new unique features and controls that have not yet been offered by any available dance game. Game controls are intuitive and clear for both beginners and advanced who require more than just music and arrows from the dance game. Modern graphics and timeless design that all the outdated dance games currently lack are matter of course. For this version of the game, up to 8 dance pads can be connected at one time.
The X-PAD Extreme Dance Pad includes a new type of sensor for longer life and 100% accurate sensing.
The X-Pad has reinforced plastic arrows for accurate orientation while dancing and gentle stepping on the pad. The insert is optimized for soft stepping not burdening the motion system and easy rebounds needed for more demanding tracks. For easy handling and storage, the insert is put inside the dance pad; it does not need to be assembled in any way. The pad is lightweight and compact. It can simply be folded, put away or transferred to another location.
This pad is a great choice for beginners who want to get into the world of dance games as well as for advanced players who want to jump onto top level. We also recommend this dance pad to users who want to enliven parties, celebrations or other events.
The X-PAD Extreme dance pad brings sport and dance, but above all fun that can be practised virtually anywhere. It is suitable for people of any age who have a PC at home. The dance pad is an unconventional gift that will surprise, delight and at the same time positively affect the body and the mind. It's a great way to actively relax without having to leave your home or workplace. Just plug the pad into your PC, turn on the program and start moving. Not only a pleasant improvement in your condition, burning off excess calories, firming of the lower part of the body, but especially the varied world of music and dance steps for which you do not need to have innate rhythm in your body, are waiting for you.
Buy this attractive gift for your children. They will no longer sit at their PC but move around. You will provide them with long-lasting entertainment that they can share with you and their friends. They will experience the joy of active movement while gradually improving and developing co‑ordination, perception, a sense of rhythm, but also improving their overall physical condition in a fun way.
Compatible with PC (USB), suitable for use with all dance simulators (e.g. Crypt of the NecroDancer). No driver is necessary (Plug&Play).
The pad also includes StepMania 3.9 (for Windows). Legal music (213 songs of different genres) is also included as well as the DDR Installer, which will guide you through all of the PlayDance and StepMania settings, prepare your pads for immediate use and automatically download additional free online music, if you want.
Parameters:
PlayDance Ultimate licence in the value of CZK 1,499/EUR 58 is included
Very long durability
High load capacity
Reinforced raised buttons for better orientation
Substrate made of non-slip material
Dimensions consistent with current world standards
8-arrow version (diagonal arrow keys can also be used)
10 active fields in total
No external power is required – it is powered directly from the gaming device
Quiet operation (the arrows do not sound when pressed)
Plug&Play (easy plugging into PC)
USB connection (Windows™ PC/MAC/Linux)